High-compaction side loader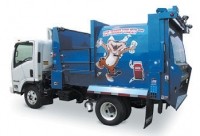 The TomCat high-compaction side loader is designed as a solution to the growing demand for more fuel-efficient collection of both solid waste and recyclables. As a lighter-weight, small-bodied manual side loader, the TomCat can be mounted on lighter-weight chassis that employ more fuel-efficient engines. Available in 6-, 8-, 10-, 12-, and 14-yard bodies, the TomCat features a high-compaction rated body with an ultra-high strength-to-weight ratio. Fast cycling times of 14-16 seconds, along with load-and-pack operation, help speed collection times, and units can be manually loaded from both sides, or equipped with a semi-automated cart dumping option. Compaction can also be operator-controlled to allow for recyclable collecting.

Additionally, the TomCat satellite model features the ability to tilt the body for a clean transfer to a larger rear loader. Satellite units are ideal for collection in widely dispersed rural neighbourhoods where fuel savings are quickly achieved. TomCats are also ideal for collecting on special routes where maneuverability and less noise is important, such as in parks and recreation areas, parking garages, gated communities, and other narrow street settings.