Complete glass crushing system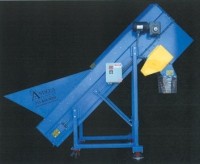 The new Andela Glass Crusher utilizes a single pass process which reduces glass bottles into a two-inch minus product, and reduces the time and cost of glass recycling. Designed for indoor portable use and discharge into a Gaylord box, units are powered by a 220 volt single phase motor and can process up to 8,000 pounds per hour. The Andela Glass Crusher provides a complete glass crushing system, using one motor for conveying and crushing. (Units use a two-hp crusher and one-hp conveyor.) A rugged, abrasion-resistant steel crushing chamber provides durability, and patented flexible impactors provide quiet but effective crushing action. The Andela design also provides the flexibility to pass non-glass material without bridging or plugging of the system.

These units offer a number of features for ease of operation and maintenance. Users simply load glass containers into a low infeed hopper and a conveyor automatically feeds the crusher. Shaft-mounted rotating flexible steel impactors provide quiet crushing of glass into a uniform cullet size, and allow non-glass items like plastic bottles, or pieces of paper or cardboard to pass, without any problems for the unit or flow of product. Plus, access doors, a self-cleaning tail-pulley and enclosed conveyor belt make the system user-friendly and low maintenance.