Automated side loader for semi-trailers updated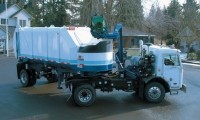 At Waste Expo earlier this year, Heil Environmental unveiled an update and improvement to their STARR automated side loader technology. STARR is an automated semi-trailer refuse and recycling collection system that consists of an automated Rapid Rail arm mounted on a truck tractor, and detachable, semi-trailer packer bodies. This arrangement gives the STARR a 42-foot curb-to-curb turning radius – 40 percent better than that of a standard straight-frame truck. As a result, the STARR easily maneuvers around cul-de-sacs, alleys and tight corners, all without risky backing. The STARR's design lets operators keep hauling long after other collection vehicles would have to head to the unloading site. When a STARR body is full, the operator can simply detach it, hook up an empty one, and continue on the route. With no need for a transfer station, the full trailers can be parked at a facility yard, serving as "mini transfer trailers" until it is convenient to take them to the disposal site. At that time, two trailers can be attached to a standard truck tractor and pulled in tandem with up to 18 tons of payload. "The STARR System has built a devoted following throughout North America since we introduced it in 1995," says Shannon Harrop, Heil director of product management. The latest STARR model includes improvements to the automated arm structure, electrical system and hydraulics. The arm has an eight-foot reach, 1,600 pound lift capacity, eight-second cycle time and unique lift geometry that provides a direct line to the hopper, without any "kick-out." The STARR's continuous pack body features an exclusive paddle packer design to continuously sweep the hopper and pack the load, and like the Rapid Rail, the STARR offers its operators outstanding cart visibility, so they can easily drive from the left-hand side of the cab, as most prefer.

Other improvements include: a strengthened automated arm with a tapered cross-section main lift beam to better match the stresses imposed on the backbone of the lift; larger teeth on the arm's grabber gears; proximity switches in place of limit switches for regulation of the arm's hydraulic controls; ease of maintenance; more sophisticated electrical control and diagnostics; and re-routed hydraulic hoses and electrical wiring All of the new parts have been designed to retrofit to existing STARR System automated side loaders in the field. STARR System trailers are available in 33 yd3 and 37 yd3 capacities, and double trailer systems are available with 66 yd3and 74 yd3 capacities.
Company info
2030 Hamilton Place Boulevard, Suite 300
Chattanooga, TN
US, 37421

Website:
heil.com
Read more
Related products