Breaking molecular bonds: a revolution in tire recycling
New high-tech facility to use microwave energy to recycle tires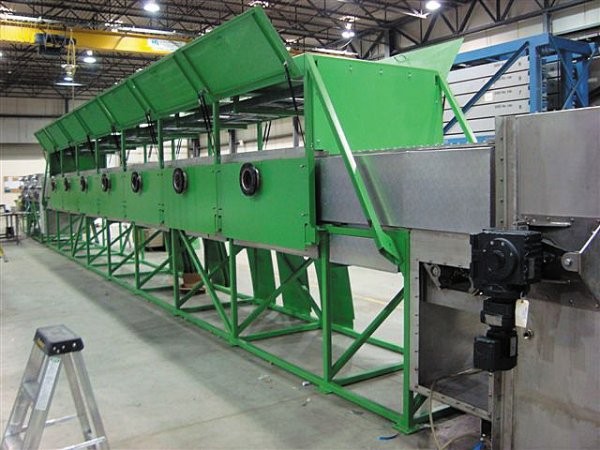 Based out of Ajax, Ontario, Environmental Waste International Inc. is set to introduce a revolutionary recycling technology to the world. EWS' system provides an efficient and environmentally-friendly alternative to the traditional methods we use to recycle tires.
In October of 2010, the company (also known as EWS, which corresponds with its trading symbol) completed construction of a new high-tech facility in Sault Ste. Marie. Starting spring of 2011, the new plant will begin using EWS's patented Reverse Polymerization (RP) technology to recycle used tires. The process uses microwaves to extract a tire's oil, along with other valuable by-products, and produces no emissions. Running at a planned recycling rate of about 300,000 tires per year, the new plant is expected to produce some 240,000 U.S. gallons of oil, 2 million pounds of carbon black, and 600,000 pounds of steel annually. In addition, off-gases produced by the system will be used to co-generate electricity that will allow it to be energy self-sufficient.
Dr Stephen Simms, President and CEO of EWS, says the facility will be the first large-scale pilot plant using this kind of technology to recycle tires, and that RP technology is the most advanced process of its kind in the world. "RP technology is based on microwave energy, and the way the microwave energy is applied to organic waste," explains Simms.
The process does not melt tires, but rather breaks apart their molecular bonds, allowing for reclamation of virtually 100 percent of a tire's by-products.
"The best description that we can come up with to describe what is actually happening with this technology is that it takes something, like a tire, and breaks it down to its simplest forms," explains Simms. "And so we are left with the very basic materials – the carbon black, the oil, the steel and hydrocarbon gas."
The prototype EWS system in the Sault Ste. Marie plant is a model TR-900, with the total system projected to cost in excess of $6 million.
"We're very excited how everything is finally coming together," says Simms. "It's really been a long time coming, and for us it's sort of like your baby being born."
EWS took over the development of the RP process in 1992 from its inventor, Dr. C.L. Emery, and went on to develop its application for medical waste.
"When I took over the company in early 2000, we entered into wastewater sterilization and built a system for the U.S.D.A., and that system is still operating in Beltsville, Maryland," continues Simms. "Then in 2005, we received a contract from the Royal Navy in the U.K. to build a food waste sterilization system. This all uses the RP technology."
Simms says securing raw materials for the new tire recycling plant has been under way since the fall of 2010. And there is certainly no lack of feedstock. Approximately 12 million used tires are generated in Ontario each year, and under the Ontario Tire Stewardship program, a fee will be paid for every tire processed through the EWS plant.
The TR-900 system
"The TR-900 prototype system being installed in the Sault is not the commercial unit, but is sort of the show-piece pilot plant," explains Simms.
"The number represents how many tires per day the system will process, so the TR-900 will process about 900 tires per day, or about 300,000 per year.
"Our design for the first commercial system is a model TR-1500. It will do about half-a-million tires per year, and it's modular, so you can put up two lines, or three lines, up to a TR-6000. Everything is based on the 1500 design."
At a cost of about $30 million, the TR-6000, comprised of four 1500s, is the largest unit that EWS currently has on the drawing board. Each TR-6000 will be capable of reclaiming over 1.6 million gallons of oil, about 6,500 tonnes of carbon black, and 1,800 tonnes of steel per year, and is engineered to process two million used tires per year.
"The two million tires per year figure seems to be a very attractive number from the financial side," adds Simms. "It's attracted a lot of interest."
The environmental benefits
"The biggest appeal of using RP technology to recycle tires obviously is on the environmental side. Our technology squeezes every bit of recyclable product out of a tire, and does so without sending any hazardous emissions up a smokestack or residual waste to landfill," says Simms. "We're capturing the carbon, so that isn't going into the air, and it opens a lot of windows to bigger financial models, with carbon credits and such."
"When it comes to traditional methods of tire recycling, the standards are grinding, shredding, crumbing, and the other fallback has always been incineration. A lot of environmentalists have pointed to the negative impacts of these technologies. And we back that," says Simms.
"There are a lot of downsides to the burning of tires, with the release of particulate, heavy metals, and all the CO2 that is given off. Our technology provides end-product such as the carbon black that can go right back into new products, whether it be rubber, a tinting agent, or various items. Or even if it's processed into a toner for ink-jet cartridges or photocopiers. There's great opportunity for the 'black' products to get back into the marketplace, and take some of the strain off of what is presently used for emerging carbon black, such as aromatic oil."
"The eyes of the world are on this TR-900," Simms adds. "We have interest from countries in various areas around the world, asking when they can come see this system operating.
"We anticipate that with the commissioning and a ribbon-cutting ceremony in early spring, we'll be looking at several groups moving forward with their orders before the end of 2011."