Dust control systems for crushing and screen plants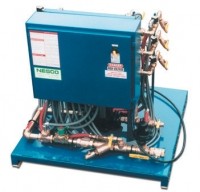 These dust control spray systems can help quarries and recycling plants comply with visible emission standards when installed at strategic locations in crushing and screening plants. The DustPro Spray System uses a high pressure 200 psi pump capable of reducing dust to compliant levels, and is electronically-controlled from a remote panel in the operator's booth. Units can be fully automated, equipped with air and glycol purge systems for cold weather operation, and are available with wireless remote controls to eliminate the electrical cable connecting the remote panel to the pump module.

For smaller processing plants or those on a tighter budget, NESCO's manually-controlled DustBoy spray system offers a more economical solution to dust emissions. The DustBoy and DustPro both feature heavy-duty construction with all brass plumbing and stainless steel pumps.

NESCO spray systems are designed to add less than 0.5 percent moisture (no more than about a gallon per ton) to production materials without the use of expensive chemicals. Effective dust control helps to keep costly equipment clean, thereby making maintenance easier and eliminating unnecessary wear and tear, and it improves working conditions. With more stringent standards for silica containing dust (a known carcinogen) in recent years, companies that make the investment in dust control equipment will provide a safer work environment as well as improved productivity.