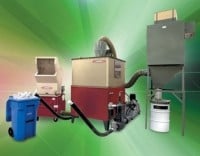 Eco-Saver Briquetting Systems are engineered to reduce large volumes of loose waste to small, manageable briquettes. Available in three models, an Eco-Saver briquetting press can be paired with any new or existing SEM disintegrator. Using a high-pressure hydraulic ram, these units compact shredded paper, cardboard, and other light materials for recycling.

Eco-Saver Briquetting Systems can reduce paper waste volume by up to 90 percent, thus reducing storage, transportation, and disposal costs. In-plant air quality, housekeeping, and the risk of combustion can all improve as well, since fine dust produced in the disintegration process can be efficiently collected and incorporated into the briquettes along with larger particles. Furthermore, the briquettes have secondary value as fuel for certain stoves and furnaces. Some paper mills buy briquettes and turn them back into pulp to make recycled paper.

Eco-Saver Briquetting Systems can handle 800 to 1,200 pounds of waste per hour, accommodating a wide range of applications. A typical system includes a disintegrator, evacuation equipment which transfers disintegrated particles and dust from the disintegrator to a hopper, a briquetting press, transfer tubes, and briquette collection boxes. Options include a sound enclosure that keeps equipment noise below 85 dB. For small batches of waste, Eco-Saver systems can be manually operated, and for larger waste streams, they can be fully automated. Standard briquette sizes range from 2.5 inches to 3.2 inches in diameter.