Slow-running shredders ideal for woodland residue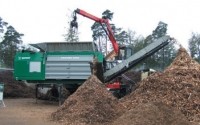 Designed for the treatment of woodland residue biomass for energy recovery and recycling, the CRAMBO Forest uses a modular system with a bio-cutter that is mounted on a semi-trailer chassis, three-axle chassis, on steel tracks or on to a four-axle lorry, with slewing ring if required. Loading is via a mounted crane with grab.

The CRAMBO Forest is designed mainly for use in stockyard and processing areas located near forests and woods. Users can extend out the supports, fold out the conveyor belts and the machine is ready to use. The combination of a 9.5-metre crane range and swivelling chassis creates a high degree of flexibil-ity when feeding and when discharging shredded material. Everything is under control from the crane – from the positioning of a root stock several tonnes in weight to all of the machine's functions. Everything that fits into the large (2.8 by 2.0 m) shredding area – root wood, tree trunk or branches – is shredded. Two counter-rotating shafts with robust teeth seize the material and press it in a cutting/splitting action against the cutter bar and screen baskets located underneath. The slow turning action (rotation speeds up to 40 rpm) shreds the wood into small chunks and the material does not exit the shredding area until the particle size matches the hole size of the screen basket used. The quantity of shredded material in the desired particle size is maximized. There is no additional generation of fine fractions, and over-length fractions are reduced to minimum. Additional benefits of this shredding technique are the high degree of tooth-resistance to damage caused by contaminants and low noise and dust emissions. A fine fraction separator option is available for shredding root stocks, forest wood residue and green waste, where soil, needles and leaves can reduce the quality of the shredded usable fraction for recycling, and increase transportation costs at the same time. Using the fine fraction separator option, one operation is sufficient to minimize the fine fraction in the output. A star screen deck, integrated into the discharge duct, coupled with a CLEANSTAR cleaning system and an adjustable screen section, carries out the separation work. The results are up to 40 percent by weight of material with less than 15 mm separated off as fine fraction.

At the US Composting Council Show earlier this year, Komptech displayed their Crambo 6000 Shredder model (below), which uses only 15 gallons of diesel fuel per hour, while achieving high levels of throughput. The compact 6000 features a slow-running high-torque design, which boosts efficiency, while reducing noise and dust. In 2007, Komptech redesigned their Crambo wood shredder line to feature a low-emission, low fuel consumption CAT-ACERT engine, and a re-engineered drum featuring thicker walls at the drum pipe, a modified transition to the flange area, and stronger gears. An optional reinforced drum is also available.