Wire joiners find application on balers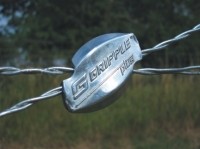 Austria's largest supermarket chain has found an innovative use for Gripple wire joiners and tensioners, manufactured by Gripple Limited, a company based in Sheffield, England.

In 250 Rewe stores across Austria, Gripple wire joiners are currently securing and tensioning the wire and wire rope used to bale waste cardboard packaging for obligatory recycling, eliminating the traditional yet hazardous use of wire knots. The potential use of the Gripple wire joiner in this novel application was first identified by Gigant, an Austrian engineering office and Rewe's technical partner, who were looking for a safer and simpler method of securing their bales. The company found the answer in an Austrian vineyard, where Gripples are used to tension trellising, and bought a quantity for testing. When this proved successful, 20,000 medium Gripples were ordered from the UK, which are used daily in conjunction with Gripple Tensioning Tools to speed up procedure even further.

Andrea Williams, the Gripple regional sales manager responsible for agricultural sales in Austria said: "This is an unexpected yet very exciting opportunity for Gripple. Rewe have more than 1,900 stores across Europe, so potential sales could reach 200,000 units annually." Since the 1989 launch of the unique patented Gripple wire joiner and tensioner, 265 million have been sold across 85 countries, with exports representing 80 percent of production. The Gripple is widely used in securing agricultural fencing and vineyard trellising, and the Grip-ple Hanger system is a very cost-effective means of suspending mechanical and electrical services.