Car Body Forks match loader capacity and application to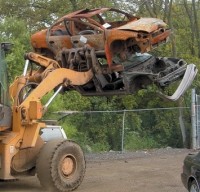 These Car Body Forks are custom-built to match loader capacity and specific salvage operation needs. Units feature tapered tines and bevelled tips to prevent load wedging and ensure easy separation, and tines are made from high-strength, heat-treated alloy steel for strength without added weight.

Options include different tine lengths to allow lifting with the length or width of a car, high-back frames for multiple car handling, and rubber bumpers to handle "parts" cars without denting or damaging vehicle bodies. The Car Body Forks' solid frame also doubles in a light bulldozing capacity for yard levelling or moving scrap.