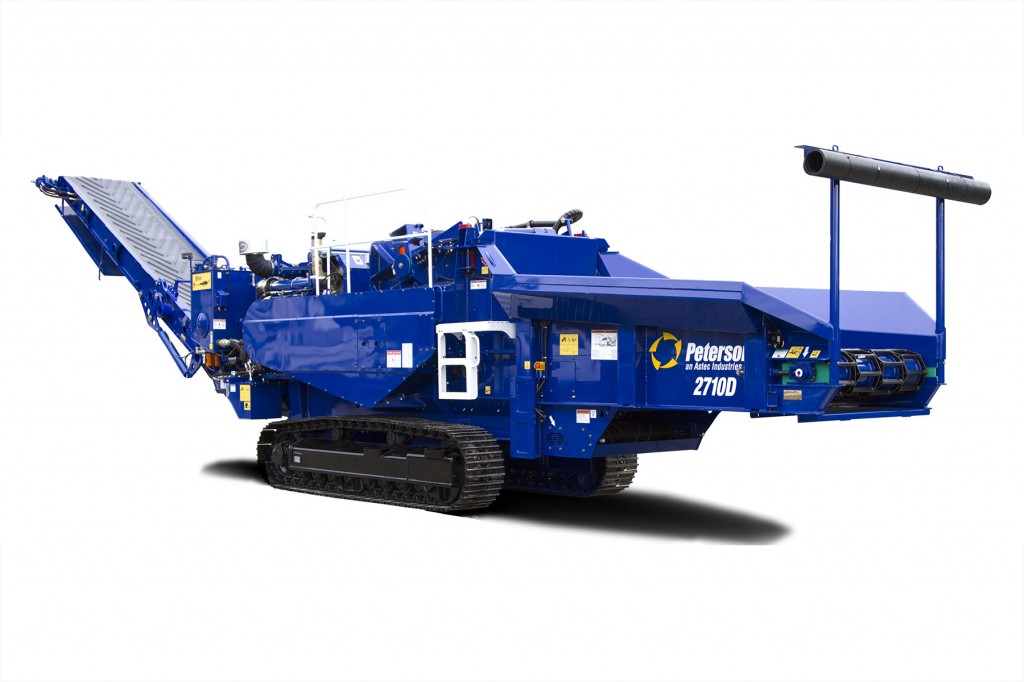 The 2710D is designed for operations requiring high production and frequent moves between jobs. At 68,100 pounds (30,900 kg), it is amongst the lightest of our grinder series. The 2710D is powerful, with your choice of a Caterpillar C15 Tier IV, 580 horsepower (433 kW) engine, or an optional C18 Tier II, 765 horsepower (570 kW) engine. Heavy duty and mobile, the 2710D can readily reduce a wide range of materials.
The 2710D's large feed opening can reduce a wide range of materials. Measuring 60¾ x 32 inches (153 x 81 cm), when boosted by Peterson's high lift feed roll, the feed opening's maximum lift of 44 inches (112 cm), is amongst the largest in its class.
The 2710D features a large grate area that enables it to produce materials to exact specifications. Our quick-change multiple grate system makes it easy to customize grate configurations to produce a wide variety of finished materials. Grates are removed through an easy-access door on the side wall.
Specs
Key Specifications

| | |
| --- | --- |
| Machine weight | Approx. 68,100 lbs (30 900 kg) |
| Horsepower | 580 hp (433 kW) @ 2100 rpm or 765 hp (570 kW) @ 2100 rpm |
| Discharge Conveyor Width | 48" (122 cm) |
| Total Grate Area | 3024 in2 (19 509 cm2) |
| Hopper Capacity | 5.6 yd3 (4.28 m3) |
| Feed Opening (width x height) | 60¼" x 32" (153 x 51 cm) |