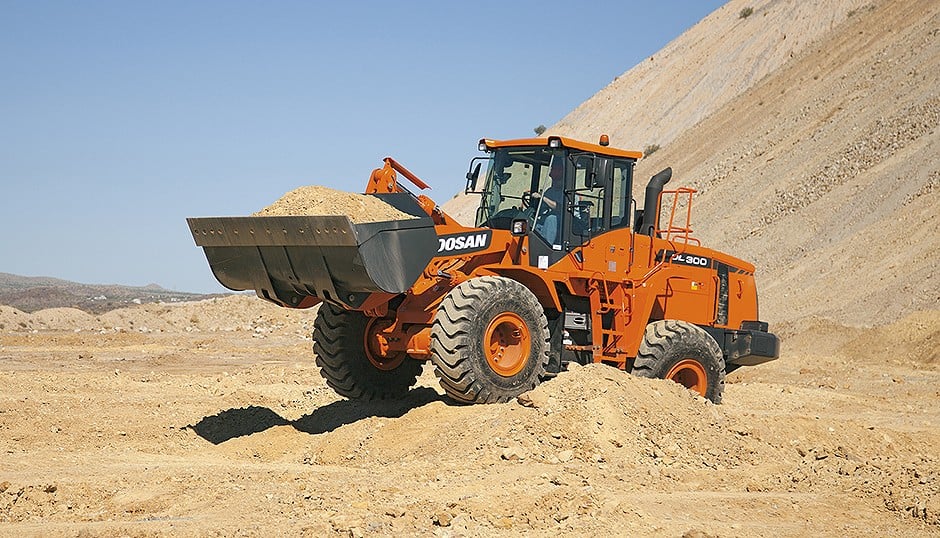 For a big performer that's agile and smooth, choose the DL300-5 wheel loader for a variety of mid-size applications.
It's ideal for highway projects, quarries and other jobsites where you need to move more material every hour. Performance features include a powershift transmission with optimized hydraulic pumps, multiple power modes, Z-bar lift arm, return to dig, and limited slip differentials on both front and rear axles.
Features & Benefits
Cooling system
An efficient cooling system features an all-aluminum reversible fan, rubber mounts that reduce vibration.
Cab
From the comfortable cab, it's easy to focus on your work. You're surrounded by more space, class-leading visibility, automatic air conditioning, an improved steering column, and ergonomically placed FnR joystick controls.
Maintenance
Maintenance is quick and easy on the DL300-5 wheel loader. Easily reach test points, oil sampling ports, and engine and coolant drains.
Tier 4 emission standards
The DL300-5 incorporates a high-pressure common-rail (HPCR) fuel delivery system as well as cooled exhaust gas recirculation (CEGR) combined with a diesel oxidation catalyst (DOC) and selective catalyst reduction (SCR).
Specs
Key Specifications

| | |
| --- | --- |
| Rated Horse Power (Net) | 270.9 hp @ 1,800 rpm (202 kW) |
| Operating Weight | 41,645 lb (18.89 t) |
| Bucket Capacity | 4.19 yd³ (3.2 m³) |
| Breakout Force | 168 kN |