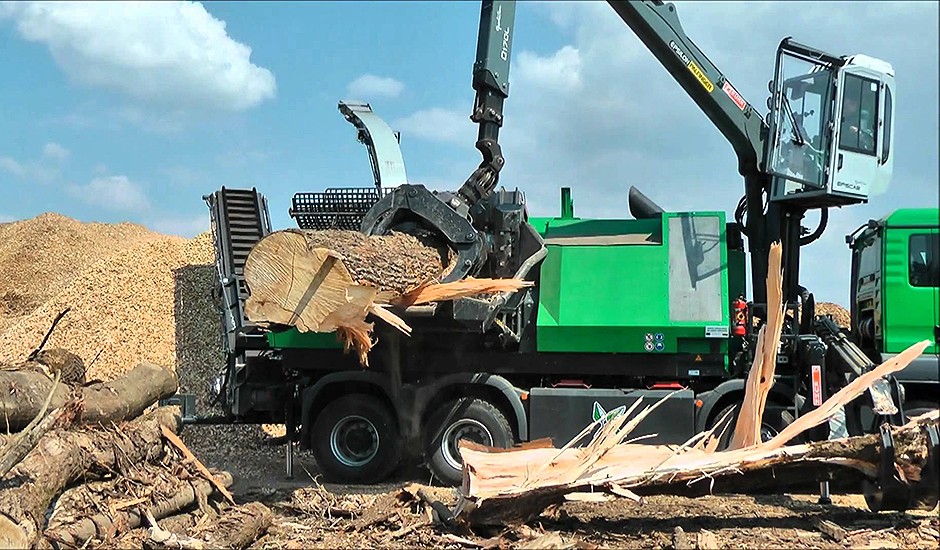 The new Chippo 8010 C is the highest-performance member of the Chippo family. Powered by a 780 HP CAT auxiliary engine, the 8010 C produces up to 320 stacked cubic meters of chips per hour. No chipper is more efficient: Its aggressive feed system, large, open two-speed drum and energy-saving discharge conveyor add up to top quality chippings, in high volume, at very low cost.
The Chippo 8010 C is mounted on a tough MAN 4 or 5-axle truck, with 480 hp engine and optional Hydrodrive (shiftable all wheel drive) to negotiate steep slopes. A powerful loading crane with crane cabin gives a good view.
Features & Benefits
EFFICIENT CHIPPING WITH TWO SPEEDS
The shredding speed is adapted to the material on the Chippo only: Higher drum speed and hence higher cut frequency for smallwood and pruning, or reduced rotation speed but higher cutting power for trunk wood.
LARGE DRUM AND LONG BLADE ADVANCE
The chipping process is extremely efficient with the large open drum and the ideally positioned countercutter. The long advance of the sturdy chipping blade produces uniform shape and size with a minimum of fine fractions.
THE BEST FEED SYSTEM
The feed system with sectional steel belt, transfer roller and two horizontal and two vertical feed rollers guarantees reliable grabbing and active forwarding to the chipping drum.
DISCHARGE SELECTION: BLOWER OR CONVEYOR
Either a blower, configurable precisely to requirements with variable speed, or a pivotable rear conveyor belt (more gentle on the material and energy-saving) is used for discharge.