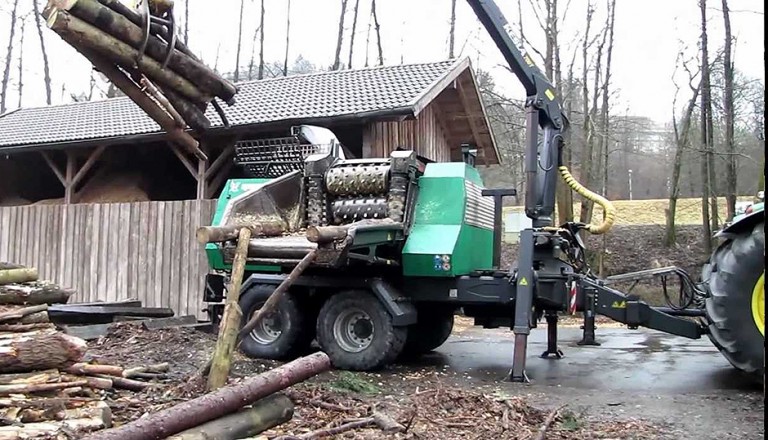 The Chippo 510 C is a tractor-driven drum chipper for wood trunks and pruning. The machine is designed for a drive rating of up to 500 HP, meaning the Chippo 510 C is currently one of the most powerful chippers in this class.
In the base configuration, the Chippo 510 C has a sturdy chassis with tandem axle. Numerous options for the tyres, the pulling mechanism and the loading crane simplify the tailoring to customer requirements. Frame and panelling are designed for a high degree of stability and doors and flaps simplify access for servicing.
Features & Benefits
LARGE DRUM AND LONG BLADE ADVANCE
The chipping process is extremely efficient with the large open drum and the ideally positioned countercutter. The long advance of the sturdy chipping blade produces uniform shape and size with a minimum of fine fractions.
THE BEST FEED SYSTEM
The feed system with sectional steel belt, transfer roller and two horizontal and two vertical feed rollers guarantees reliable grabbing and active forwarding to the chipping drum.
EFFICIENT CHIPPING WITH TWO SPEEDS
The shredding speed is adapted to the material on the Chippo only: Higher drum speed and hence higher cut frequency for smallwood and pruning, or reduced rotation speed but higher cutting power for trunk wood.
DISCHARGE SELECTION: BLOWER OR CONVEYOR
Either a blower, configurable precisely to requirements with variable speed, or a pivotable rear conveyor belt (more gentle on the material and energy-saving) is used for discharge.
FLEXIBLE
Drum speed to customer specification: 400 or 560 rpm or both.
Innovative
Aggressive feed with pre-compression due to 2 horizontal and 2 vertical feed drums.