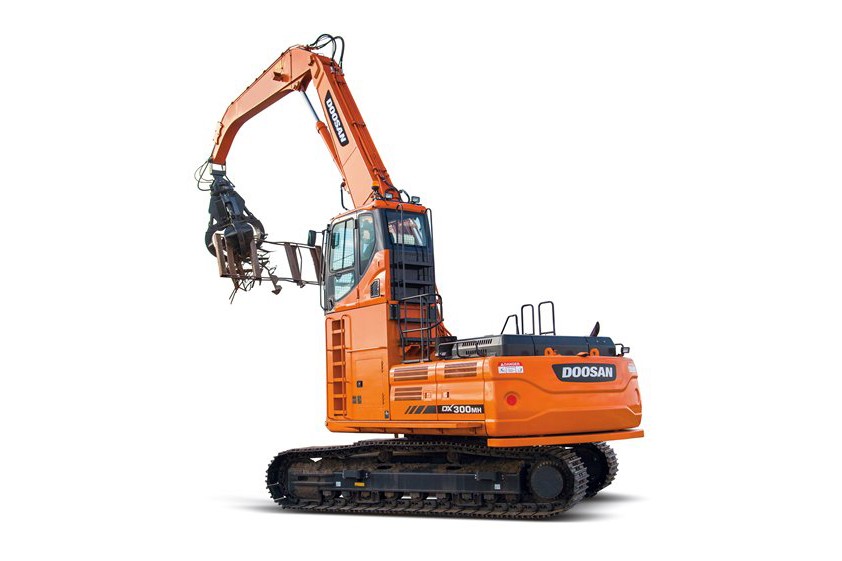 As the largest material handler in the lineup, the DX300MH-5 is built for the most demanding material handling functions. It features a fixed 6 ft. cab riser with hydraulic tilt, straight boom and droop nose stick, sandwiched counterweight, rotate grapple ready hydraulics, and additional guarding. Careful design, high-pressure common rail fuel injection and four valves per cylinder deliver increased torque and efficient fuel consumption. High-capacity pumps improve productivity, while the swing drive provides rapid cycles.
Features & Benefits
Power Mode
In addition to four power modes, the DX300MH-5 includes lifting work mode, which provides increased pump torque, low engine RPMs, and an automatic power boost.
Cooling features
Cooling features of the DX300MH-5 include a variable speed fan and a split cooling system, which utilizes both hydraulic oil and engine coolant.
Tier 4 emissions standards
To reach these standards, the DX255LC-5 incorporates a high-pressure common-rail (HPCR) fuel delivery system as well as cooled exhaust gas recirculation (CEGR) combined with a diesel oxidation catalyst (DOC) and selective catalyst reduction (SCR).
Specs
Key specifications

| | |
| --- | --- |
| Operating Weight | 79366 lb |
| Rated Horse Power (Net) | 358.1 hp @ 1800 rpm |
| Engine Emissions Tier (EPA) | T4 |
| Max Digging Reach (Ground) | 42' 7" |