CityPod composter installed at B.C.'s largest university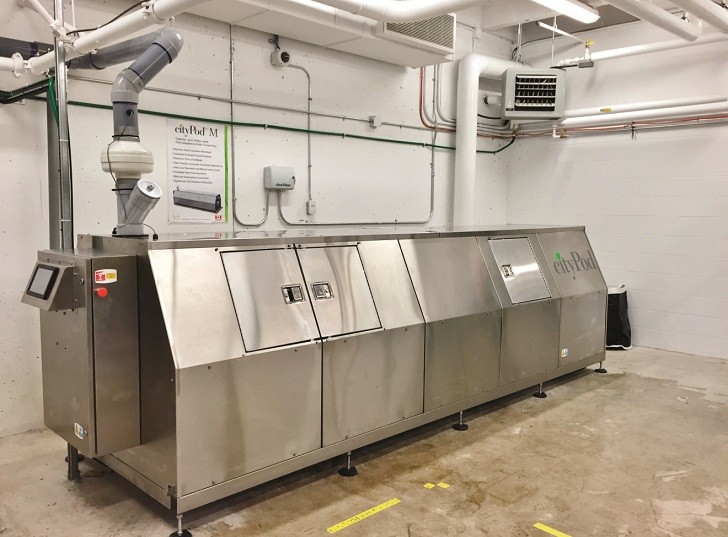 The Alma Mater Society (AMS) of University of British Columbia (UBC) has installed a model M CityPod composter, as part of the construction of a new SUB (Student Union Building) "student Nest" which will open its doors in March 2015. Built to LEED Platinum standards, the UBC SUB is operated by the student-run Alma Mater Society and was largely funded by students. Once opened, the Nest will include a three-storey climbing wall, daycare, rooftop garden, restaurants and expanded area for student clubs.
All food waste and compostable tableware from the Nest's catering and food service operations will be composted on-site in a 15-foot-long, all-stainless steel in-vessel CityPod composter. Manufactured by Dorval, Quebec-based Vertal Inc., the City-Pod will process all pre-consumer food waste and other compostables are collected in 35-gallon bins and fed directly to the composter using a bin lift. All post-consumer food waste is collected in 35-gallon bins lined with compostable bags, and shredded in a Bokashicycle Pulverizer prior to being fed to the composter. This reduces the size of material and ensures compostables fully decompose through the six week biological composting process. UBC, the first Canadian university to install a Vertal CityPod composter, intends to process 40 tons of food waste this coming year in order to provide high-quality nutrient-rich compost for use on the SUB's new rooftop garden.
More from Organics Recycling
Single-Ram and II-Ram High-Capacity Balers
At Machinex, we've been designing sorting systems for over 35 years, so we know how essential it is for MRF operators to have a baler they can trust and not worry about its operational reliability. This is why we design and manufacture reliable single-ram and II-ram high-capacity balers to specifically help optimize their operations.
Watch the video of our expert who presents the main features of Machinex balers delivering these important benefits:
Easy & accessible maintenance
Reduced maintenance & bale handling costs
Energy savings
Optimal bale density
For C&D recyclers, waste haulers, demolition contractors and landfills, there is a growing opportunity to profit from rethinking processes. Although every operation is different, by streamlining the front end of the C&D operation processes with purpose-built technologies, recyclers can tap into new end markets, accommodate higher material volumes, stay ahead of regulatory restrictions, increase recovery rates and add commodity revenue, while decreasing labor and other costs.
Download the new eBook to learn about:
Finding opportunities in the alternative to landfilling C&D
How facilities can increase their profits from C&D
Using the right C&D processing technology in the right locations